Recent News
Welcome to the website of the Aberdeen & District Junior Pennant League (AJPL). 
 Refer to League page for fixtures
 Refer 'Trophies '  page for draws and results. 
Newmachar and Westhill will be participating in all events apart from the league and we welcome them back, Peterhead have decided not to play in the league but will play in all other events.   We hope that their junior membership will increase so that they can play in the league program again.
Draw for OTT has been made and is posted on the trophies page. 
I take this opportunity to wish all our clubs a happy and enjoyable golf season 2017. 
My Contact References are  magog@talktalk.net / 07848801836 / 01224321180.
The Section winners of the league are as follows:-
Section  'A'   Deeside GC 3.5     Section  'B'    McDonald GC  1.5     at Murcar Links on Sunday June 18.
Section  'C'   Portlethen GC  0   Section  'D'  Cruden Bay GC  5      at Mc Donald GC on Sunday June 18. 
Final at Aboyne GC on Sunday June 25 at 12.00hrs.
Deeside GC   3     Cruden Bay GC  2
A very close match which was won by the last putt on the 18th. green and the final game (5th. game).  Well done Deeside and with two girls in the team
Individual game scores available on request.
Off the Tee commences on Sunday July 02 at Peterculter, Portlethen, McDonald and July 09 at Aboyne.
Aberdeen Section  Semi's  Murcar Links won by 2 holes over Hazlehead and Portlethen won at the 19th over Royal Aberdeen.
                           Final  Portlethen won by 1 hole over Murcar Links.  (Refer ''Trophies'' for information)
West Section         Semi's TBA
                            Final Kemnay won by 6 holes over Inverurie.
North Section        Semi Final Inverallochy had a W.O. over Peterhead.
                                           Cruden Bay won by 1-hole over McDonald.
                            Final    Cruden Bay won by 7 holes over Inverallochy
Deeside Section     Final     Deeside won by 1 hole over Aboyne.
Refer ''Trophys'' for Final pairings at Aboyne also Area play-off scores.
The Hector Dey held at Aboyne was won by Nathan Mackie (son of the convenor) with a net 63, Cameron GRAY OF Cruden Bay was second with a net 67 and Finlay Wallace of Portlethen was third with a net 68. For other scores refer Trophies. The CSS was 69.
The final of the OTT was held at Aboyne GC on Sunday, Aug. 20 Portlethen beat Deeside by 4 holes and in the semi-finals Portlethen beat Cruden Bay by 3 holes and Deeside beat Kemnay by 12 holes.    For team details refer Trophies.
Cruden Bay finished in fourth place at the first Scottish Junior Team Event at Glenbervie on Sunday last, they were in second position until the last two teams bettered their score by 2/1 points.  The event was well run as a stableford with five players counting out of six and there was 13 teams playing, the weather was rainy all day.  Hopefully Portlethen will host the event next year and there might be an all girls team playing.
The semi-finals and Final of the Spence Trophy on Sunday, Oct 01
Cameron Grey (Cruden Bay)  beat   Finlay Wallace (Portlethen) 4& 2  and   Cameron Carnegie (Kemnay)  beat  Jack Scott (Hazlehead) 3 & 2.
In the Final Cameron Carnegie beat  Cameron Grey 2 & 1. In the 3rd & 4th play off Jack Pirie beat Finlay Wallace 3 & 2
Convenors outing at Aboyne(over 9 holes) on Oct 01 was won by Gordon Forbes(New). David Morrice(ML)then Jim Ramsay, Mitch Cabei,Scott Mackie,
Historical and Rules Links
History of Junior Pennant League 
Golf Links
Member Clubs and Associated Websites
North East District of Scottish Golf Union
Below are the winners of our trophy competitions for  2017.
Deeside GC winners of the Aberict Junior Pennant League.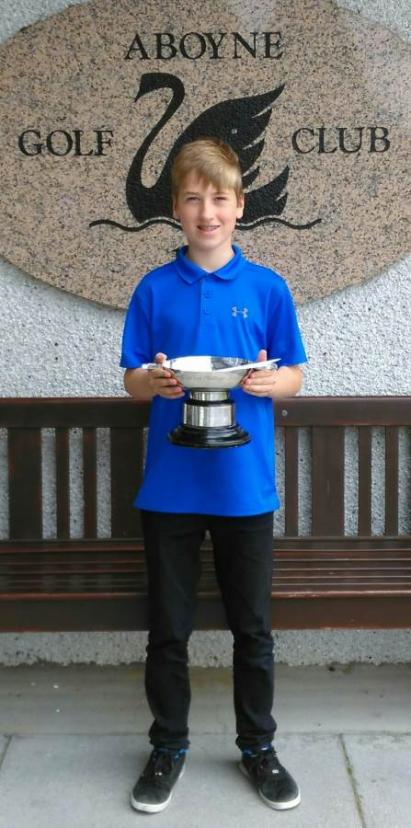 Hector Dey Trophy winner Nathan Mackie.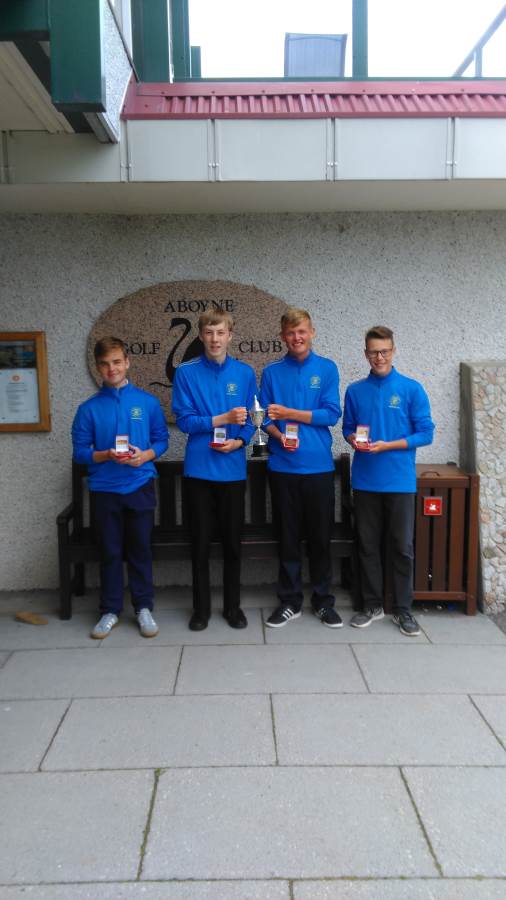 Portlethen GC winners of Off the Tee Trophy.
 Cameron Carnegie (Kemnay)  Spence Trophy winner