Recent News
 Welcome to the website of the Aberdeen & District Junior Pennant League (ADJPL). 
 There are no clubs who play on municipal courses playing in the league and they were all founder members of the Junior Pennant League............... A sign of the times.
Refer to League page for fixtures
My Contact References are  magog@talktalk.net / 07848801836  01224 321180.
Our golf program looks good for a start on May 16.
I have up-dated the contact information on web site apart from Junior Open dates, please review and report any changes under contact us.
The league fixtures are on the site under league 2020.
Website up-dated 09/05/21 please advise any comments.
We hope that you are all keeping well and safe.
The League Final on Sunday July 04 at Deeside GC      between Cruden Bay and Portlethen. 
Result    Portlethen 5  Cruden Bay  3
Well done to both teams for a close match and Congratulations to Portlethen
JUly 25 at Deeside GC.
Hector Dey 1st Callaum Gammock (CB) 2nd  Ben Pirie (Ban) 3rd Finlay B;ack (RA) 
Murray under 14's  1st Alex. Weathers (Dee)  2hd Harry Davidson Gall (CB)  3rd Sam Leslie (Port)
Next event OTT at various venues on August 08.
Aberdeen Sect.      Deeside GC
West Sect.            Newmachar
Deeside Sect.        Aboyne
North Sect.           Royal Aberdeen
Spence Trophy (2020 and 2021)
2020 Quqlifiers  1)   Ethan Main  (CB) 140.  2)  Alaister Hunter (McD) 148.  3)  Josh Allardyce (CB)  156.  4)  Thomas Simons (Kem)  159        Draw  1 v 4 and 2 v 3
2021 Qualifiers  1)   Robbie Bothwell (RA) 141.  2)  Kobi Buchan (CB)  144.   3)  Fraser Laird (Kem)  146.  4)  Lewis Coull (West)  153             Draw  1 v 4 and 2 v 3
OTT Trophy Sunday Aug. 29 Tee off 09.00hrs
Royal Aberdeen v  Newmachar  Newmachar beat Royal Aberdeen by 4 holes
Deeside  v  Aboyne   Deeside beat Aboyne by 7 holes
Final  Newmachar and Deeside were all square after 18 holes each pair being up by 2 holes.
        at 19th lole both Deeside pairs had birdie twos and won the final at 19th hole
         (web site requires update)
Next event Spence Trophy Finals for years 2020 and 2021 and convenors outing on Sunday Oct. 03.
Please note that Thomas Simons (Kem) unfortunately has had to withraw from Spence Trophy 2020 and has place will be taken by Evan Fulton (Port) as the next qualifier, he will olat Ethan Main (ML)
Historical and Rules Links
History of Junior Pennant League 
Golf Links
Member Clubs and Associated Websites
North East District of Scottish Golf Union
Below are winners of our trophy competitions for  2021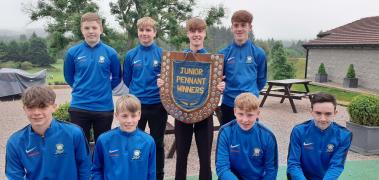 Portlethen GC winners of the Aberdeen Junior Pennant League.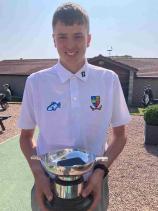 Hector Dey Trophy Winner Callum Gammock (Cruden Bay)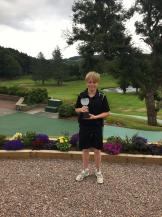 u
Murray Trophy (under 14) winner Alex Weathers (Deeside)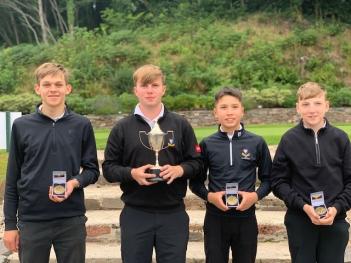 Off the Tee Trophy - (Deeside)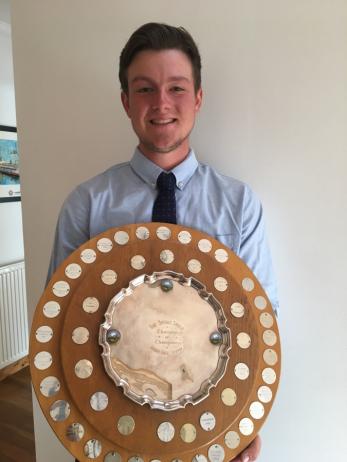 Spence Trophy Winner Cameron Black (Royal Aberdeen)