Recent News
Welcome to the website of the Aberdeen & District Junior Pennant League (AJPL). 
 Refer to League page for fixtures
 Refer 'Trophies '  page for draws and results. 
I take this opportunity to wish all our clubs a happy and enjoyable golf season 2018. 
My Contact References are  magog@talktalk.net / 07848801836 / 01224321180.
Newmachar and Westhill will be participating in all events apart from the league, Peterhead have decided not to play in any events this year, Inverurie will play in Hector Dey and Spence trophies.
We are introducing an under 14 competition to be held at the same time as the Hector Dey at Cruden Bay on Sunday July 29 and will be open to boys and girls who are under 14 on January 01 of the ensuing year.
I have found a donor who will supply a trophy.
The League commences on April 22 refer to league 2018 page for details  (updated 05/04/18).
All Club, Convenors information and Junior Opens have been up-dated.
Draw for OTT has been posted on web site.
Please review web site up-dates and advise any changes or omissions.
Newmachar have joined the league but unfortunately, Hazlehead have had to pull out due to lack of numbers, this now means there are no clubs who play on municipal courses playing in the league and they were all founder members of the Junior Pennant League  A sign of the times  Hazlehead hopefully will play in other trophy events.
Newmachar will play in section D replacing Hazlehead.
I would wish all clubs a happy and successful season and Email your scores as soon after games as possible.
League Semi-finals o Sunday June 24
Final  Aboyne v. Cruden Bay on Sunday July 01 at Cruden Bay.
Next event Off the Tee on Sunday July 8. refer to Trophies page for venues and draw.
Well done to Cruden Bay on winning the league, they won 3 - 2 over Aboyne, a close match.
Congratulations to Cruden Bay,Kemnay,Murcar Links and Peterculter who have qualified for the OTT final on August 12 refer to trophies 2018.
Historical and Rules Links
History of Junior Pennant League 
Golf Links
Member Clubs and Associated Websites
North East District of Scottish Golf Union
 Below are the winners of our trophy competitions for  2018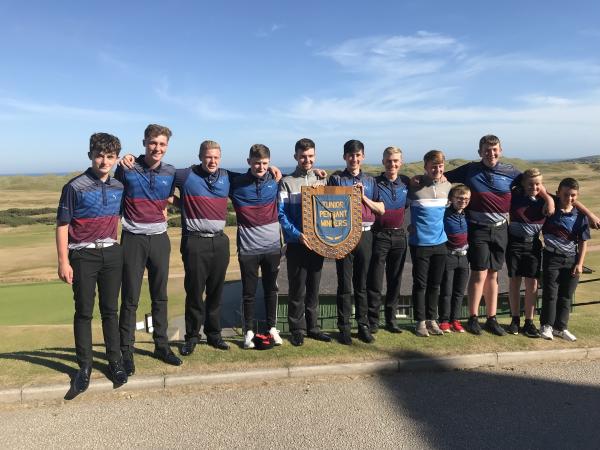 Cruden Bay GC winners of the Aberict Junior Pennant League.
 Below are the winners of our trophy competitions for  2017.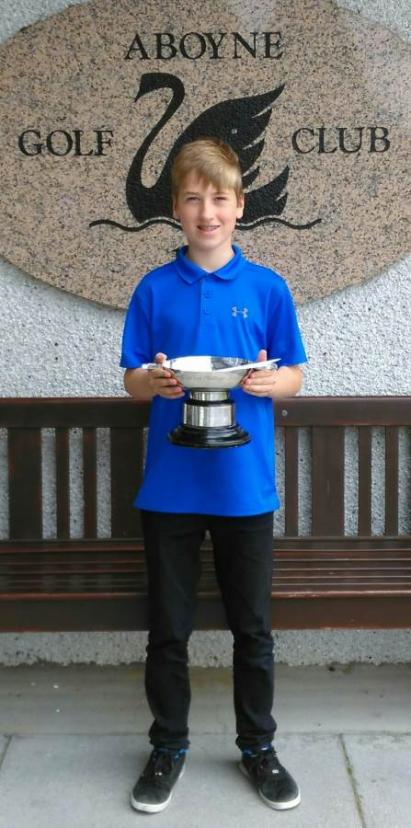 Hector Dey Trophy winner Nathan Mackie.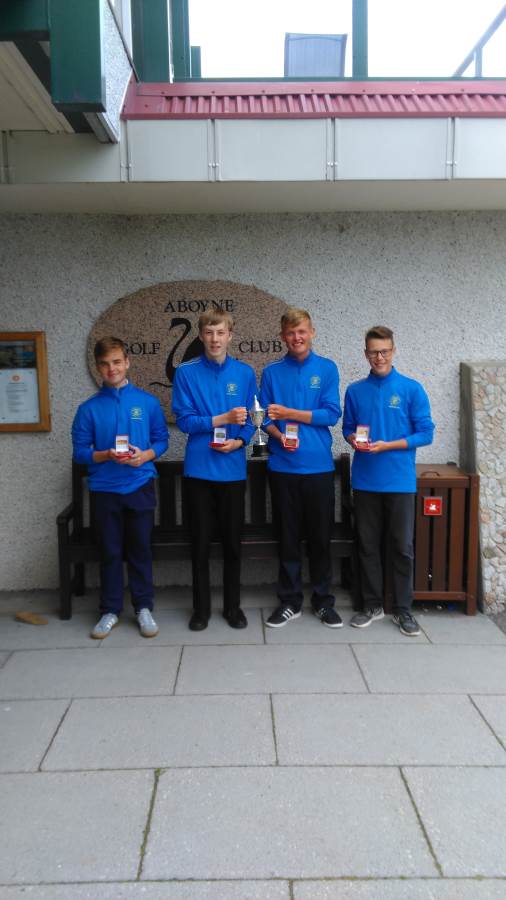 Portlethen GC winners of Off the Tee Trophy.
 Cameron Carnegie (Kemnay)  Spence Trophy winner